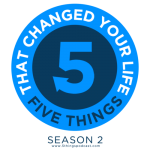 Thanks for everyone who listened to, took part and subscribed to the Five Things That Change Your Life Podcast. Loren and I are pleased to pull another season together. This season we talk with:
M*A*S*H casting director Sam Christiansen
Founders of the Gentile Barn, an animal rescue in Santa Clarita Ellie Laks and Jay Weiner
Whose Line is it Anyway writer/performer Ron West
Creator of America's Funniest Home Videos Vin DiBona
and more
Look for us on iTunes, Google Play and YouTube.